Winter 2022-23 Packing Video
An Inside look at an Exum Guides's Repair, Rescue and First Aid Kit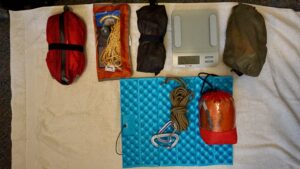 I believe the following list best represents the essential items one should have in their pack, whether you're with a guide or touring with a group. These items can be distributed among the team, as some of them serve multiple purposes. I arrange the kits in a specific way, with frequently used items near the top and emergency supplies towards the bottom. It's important to note that the beacon, shovel, and probe are always necessary and should be easily accessible. Please note that this discussion pertains to the kits, excluding avalanche rescue gear. If you're planning a longer trip, the kit requirements may change. Additionally, individuals should be responsible for carrying spare parts based on their specific binding and boot preferences.
Regarding distributing the kits within the group, on recreational days, I may bring all my kits to the trailhead and compare them with my touring partners' kits. This allows us to discuss what items are essential for the upcoming tour. Since I ensure my kits are well-packed and comprehensive, I distribute different kits to the team.
Another important aspect is to avoid carrying excessive weight and ensure that the items you have are truly useful. Therefore, careful consideration should be given to what works and how much of it to bring. To minimize weight, I design these kits to provide what is necessary to return to the car, allowing you to replenish them before your next adventure. I also believe that every item has multiple uses, and it's more important to recognize that things can break and not always have straightforward solutions. Being resourceful with your kit and finding innovative ways to repair items is crucial. It's worth mentioning that if it's the first time you're attempting a particular fix, it may not work right away. Be patient and think outside the box.
I weigh everything so I know if it's too heavy and if I should take less of something.
Quick Fix-it Kit – 16.2 oz/461 grams. This kit is for everyday use or the things I find that are commonly used to fix small repairs and first aid issues as well as a place for a headlamp, satellite communication device, and more.
Headlamp

Multi-tool – This must have pliers and it can be tough to keep your weight down here.

Handwarmers

Skin Wax

Satellite communication device. 

Compass

Scraper – bases, skins, bindings, etc….

Mini First Aid Kit – Small scrapes and cuts are the most common so I like to stay out of my big first aid kit unless I need to. 
Mini First Aid Kit Contents
Bandaids 

Single-use antiseptic wipes 

Small bandage

Tiny scissors

1 pair of latex gloves

Tape

Advil

Baby Asprin – IN CASE OF A CARDIAC EMERGENCY
Repair Kit – 15.5oz/431 grams. This includes parts for what I find are common problems that need fixing. A small screwdriver kit that accepts different screwdriver bits. Make sure these bits fit the bindings on your skis and be sure to have a common Phillips head. The screw drive tool rachets so it is quick to use and stores a few bits in the handle. I have a drill bit in case I need to drill into skis to build a rescue sled. Small pieces will be in small bags so they don't get lost.
Screwdriver kit

Small drill bit

Stardrive bit for tech binding screws

Phillips head bit for common screws

Flathead bit for common screws

2 screws for bindings

Steel wool is to put in screw holes to help the screws hold when fixing a binding back to the ski

At least 2 hose clamps. You can't fix a ski pole with just one.

Powder basket

Tech binding heel spacer

Skin tail clip

3 Ski staps. I will have 2 straps in an outside pocket so I have 5 total

Zip Ties

Wire

Firestarter with lighter and flint kit

Some electrical tape is wrapped around the lighter. It is strong and stretchy.
Big First Aid Kit 14.4oz/408 grams- This kit contains what is needed for serious injury/trauma. I luckily have rarely had to go in this kit so it sits at the bottom of my pack.
Tourniquet 

CPR mask

Knee wrap

Big bandaids 

Gauze

3 more pairs of gloves

Triangular bandage

Space blanket
Basic Snow Science Kit 7.5oz/214 grams – This is just the basics for a regular day in the hills. If I have specific snow science goals in mind I would take a kit related to that.
Crystal Card

ECT cord 2mm x 200 cms

Slope meter

Thermometer
Rescue Sled/Overnight tarp set up – 1lb 8oz/702 grams.
Tarp/Wing with string or grommets – this can create a roof in a small snow cave, drag tarp, or be used in the rescue sled configuration.

6m x 5.5mm rope/cord for pulling the sled or drag bag

2 lightweight non-locking carabiners

Lightweight foam pad for the patient or to sit on in case of an unplanned bivy. It is super light and fits in my pack up against my back to minimize taking up too much space.
Leave the crowds and lift lines behind
Exum Guides offers backcountry skiing and snowboarding in an incredible variety of terrain and locations. Get in touch with our friendly and knowledgeable staff to start planning your next adventure today.