Exum History and The Grand Teton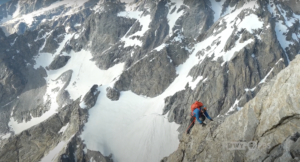 Exum Mountain Guides extends heartfelt gratitude to Wyoming PBS for granting us this incredible opportunity to collaborate on a project that delves deep into the rich history of our journey. As we approach a remarkable century of guiding in the Tetons, we invite you to join us for an exhilarating journey back in time, exploring the nascent days of mountaineering in this breathtaking range. Our trip culminates with an awe-inspiring ascent of the iconic Exum Ridge. 
Lead Exum Guide, Jessica Baker, expertly ushers Tait and Luke from the stunning Jackson Hole Valley to the triumphant summit of the Grand Teton. Even amidst the challenging alpine conditions of snow and ice, nothing could deter this determined team from achieving their lofty goal. 
Check out more News, Education, and Pro Tips on our NEWS PAGE
Reach your peak
Exum Guides offers summer climbing for children, families, aspiring climbers, and experienced alpinists in an incredible variety of terrain and locations. Our climbing classes and guided climbs welcome the first-time climber through the seasoned expert. Get in touch with our friendly and knowledgeable staff to start planning your next adventure today.