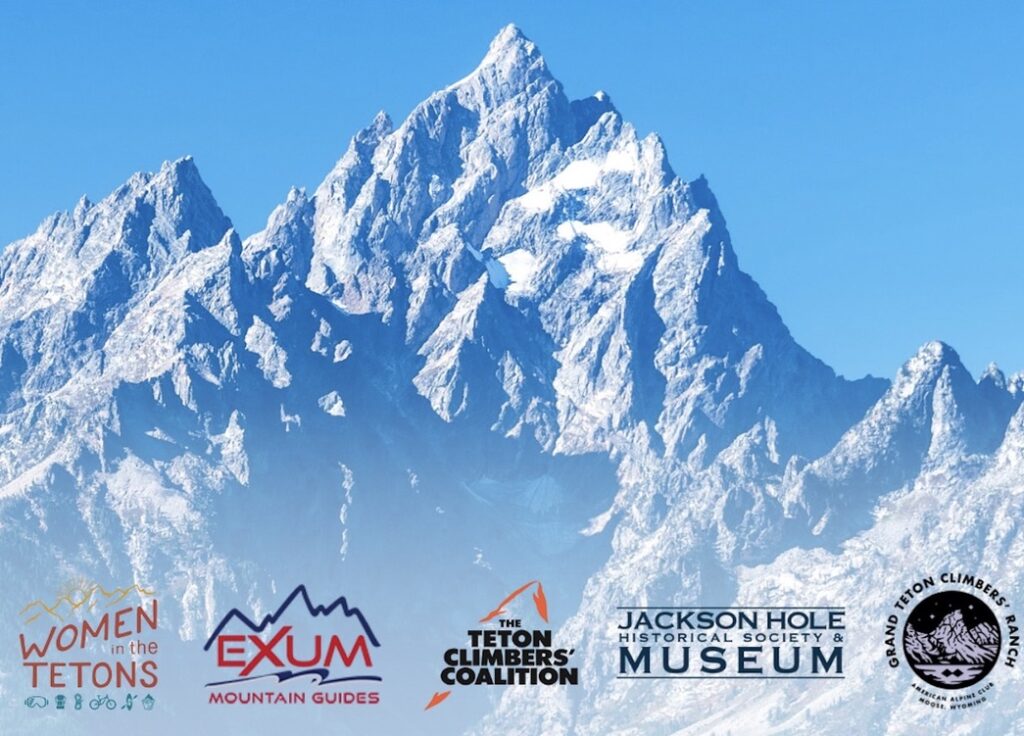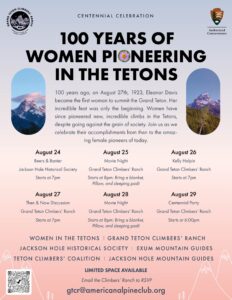 The year 2023 marks the 100th anniversary of the first female ascent of the Grand Teton by Eleanor Davis on August 27th, 1923.
In the spirit of Eleanor, to celebrate our incredible female guides, and because we love getting women in the mountains, Exum will be hosting an all-female climb of the Grand Teton. This climb will take place from August 24- 28, 2023 and include climbing school, a 2-day climb to the summit with a night of camping at our high camp, and evening events throughout the 4 days in the Tetons.
Women will be led by a team of all female guides and will work together to celebrate this momentous occasion. Though all participants will train together on August 24 and 25, there will be two summit teams divided between August 27 and 28.
Thanks to a community collaboration with local non-profits Women in the Tetons and the Teton Climbers Coalition, there is a scholarship position on this climb that has been awarded to Wanna Johansson. Wanna is a Teton County resident, mother, and excited to be a member of this climb. From Wanna, "I deeply love the Tetons, as we all do. There is great care that goes into conservation, climate advocacy, and responsible recreation. It's a wonderful community of inspiring people that lift each other up and care passionately about this land. Still, I have been seeking an answer to a more persistent question:
Despite all our good intentions and resources, why is there still a huge lack of diversity in the mountains while all of us continue to recreate on stolen land?
Making space for this conversation was my primary focus when I applied for the amazing scholarship for this year's all-female climb of the Grand Teton hosted by Exum. I have much gratitude to Women in the Tetons and the Teton Climbers Coalition for having the courage to embark on this expedition, to do the tricky work that it takes to make change, and have faith in me although I may not fully resemble those who came before.
I promise to make you proud, and a big shout to those who came before: I recognize that the land on which we gather is the ancestral homeland of the Mountain Shoshone People. 
 I honor Eleanor Davis who made the first female ascent of the Grand Teton on August 27th, 1923." In addition to the training days and summit attempt, there will be evening speakers and a final party for the centennial at the Grand Teton Climber's Ranch on August 29. The evening events are a community collaboration with the Grand Teton Climber's Ranch, the Jackson Hole Historical Society, Women in the Tetons, and the Teton Climber's Coalition. It will be a memorable week celebrating the rich history and bright future for women in mountaineering. The entire event will be covered and reported on by Wyoming Public Radio, NPR, and our local News and Guide. 
Leave the crowds and lift lines behind
Exum Guides offers backcountry skiing and snowboarding in an incredible variety of terrain and locations. Get in touch with our friendly and knowledgeable staff to start planning your next adventure today.