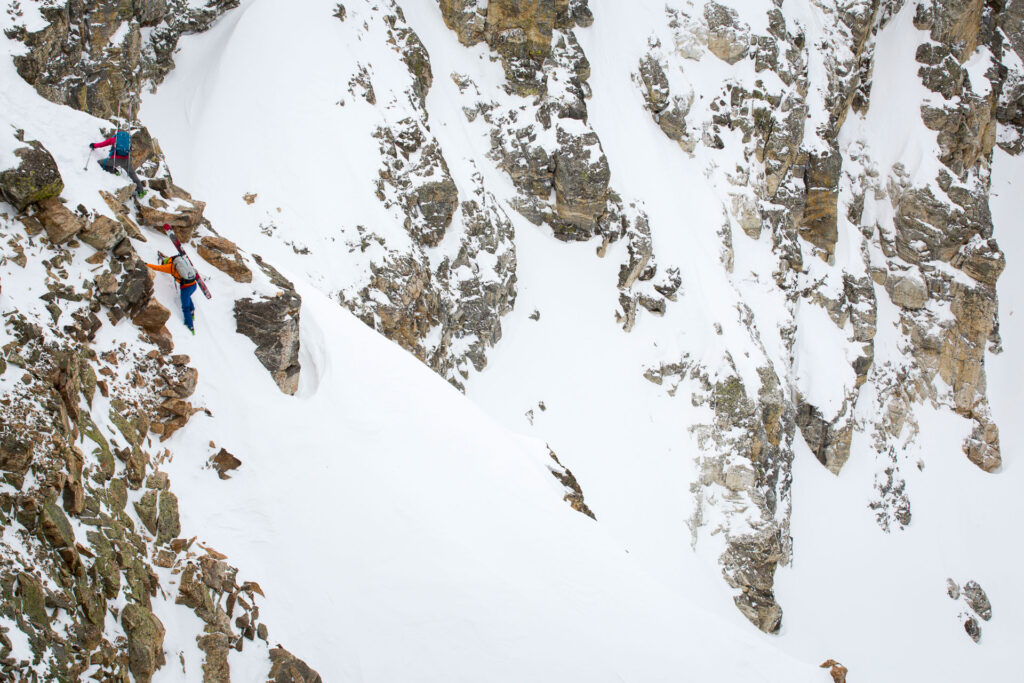 Exum will be touching base with 3 different trainers and coaches over the next month in Jackson to discuss with them how they look at training for the upcoming ski season. Trainers and Coaches are different and so are all of us so we hope one of these styles is a method that can help you become better at the craft of backcountry skiing.
We start the series with a short discussion with Rob Shaul from Mountain Tactical Institute (formerly Mountain Athlete). MTI has a few different ski training plans but we find the Backcountry Skiing Pre-Season plan to be the most helpful for backcountry skiing or riding.
Stay tuned for the next 2 parts of the series with Exum Guide Zahan Billimoria and Owner of Medicine Wheel Wellness Francine Bartlett.
Exum HQ – What has been the most surprising piece of information you have learned by training skiers and riders for the last 15 years?
Rob – Max effort leg strength doesn't translate to skiing.  In my first season of dryland ski training I programmed in heavy front squats and deadlifts, and at the end of that cycle, myself and all my athletes had impressive front squat and deadlift numbers, and by all measures, strong legs! 
Then, on the first ski run of the season, I had to stop and rest because my legs were smoked! I wasn't alone. All my athletes experienced the same and were not happy with me.
I hit the books looking for info on dryland ski training …. And didn't find much. But what little I did find, plus my own logic and experimenting, I learned that skiing stresses "eccentric" strength – when the muscle shortens, and not "concentric" strength – which is what we trained with all the heavy front squats and deadlifts. Essentially, gravity "bounces" the skier down the hill, and the legs are forced to absorb gravity's impact and keep the skier from being forced into the hill. 
Also, I learned that skiing doesn't demand raw leg "strength," but rather, "strength endurance." Even a World Cup downhill, slalom, or GS run lasts 90-120 seconds … which from a physiological standpoint is a strength endurance effort. A recreational skier making multiple runs a day pushes this endurance significantly further. 
Finally, alpine skiing demands what I term "leg lactate tolerance." This is the burn skiers feel in your quads near the end of a long run, or the middle of a demanding run. Leg Lactate Tolerance is not only the ability to continue to push this leg lactate tolerance longer before the skier has to stop and rest but also the ability to shorten the rests. 
In response, every year I've continued to focus and improve my dryland ski programming to focus on eccentric leg strength, eccentric leg strength endurance, and leg lactate tolerance. As a result, my current dryland ski programming is focused, simple, and hard.
For backcountry skiing, fitness programming must add the uphill component. Uphill skinning and/or boot packing are specific modes of aerobic endurance, and I've found the best fitness programming for endurance modes is to train that specific mode, or as close as possible to that mode. 
For skinning, ideally, I'd have athletes wearing their skis/boots and skinning "uphill" on an inclined treadmill. We've deployed this with professional ski-mountaineering athletes, but have never had enough treadmills for the number of recreational athletes we coach. 
So, the next best is to train for loaded uphill boot packing – which we've found does transfer well to skiing also. Hence, our dryland programming for backcountry skiing includes thousands of loaded step-ups – which are pure drudgery to complete but transfer well to moving uphill in the winter.
Exum HQ – What 2 areas of the body do you think have the most impact when you train them right for backcountry skiing?
Rob –
Eccentric Leg Strength and strength endurance for the downhill.
Mode-specific muscles strength endurance and cardio for the uphill (step-ups).
Exum HQ – What are your favorite exercises to improve your ski fitness?
Rob –
Exum HQ – We know pre-season training is important, but what about once we get into the middle of the season and we are still looking at 2-3 more months of skiing. What is a good maintenance plan so as not to become injured.
Be sure to check out Rob's TRAINING PLANS and watch for the next installment in our ski season training series.
Check out more News, Education, and Pro Tips on our NEWS PAGE
Leave the crowds and lift lines behind
Exum Guides offers backcountry skiing and snowboarding in an incredible variety of terrain and locations. Get in touch with our friendly and knowledgeable staff to start planning your next adventure today.