Exum purchased the Ice Park at Snow King in December and it has been a great first year. We hoped to keep the park open until mid March, however the recent warm weather has forced us to close early. We look forward to next winter, and until then, here are highlights from this season!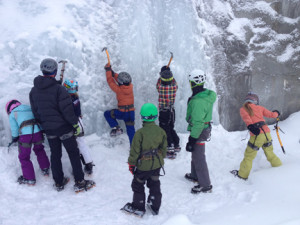 Colter Elementary Winter Sports – The kids in Jackson schools are lucky to have the Winter Sports program! All students spend one day a week participating in the sport of their choice. This year six adventurous 5th graders chose ice climbing.
Jackson Hole High School and Middle School Climbing Clubs – Both clubs climbed at the park after school.
Ice Fest – Exum sponsored Ice Fest as a part of the Jackson Hole Winterfest celebration. Climbers competed in 3 different events. Congrats to Jake Fellenz who won all three events.
 More 5th Grade Winter Sports Photos – It's great to see our local kids enjoying the new ice park!