Private climbs allow more flexibility and a custom experience.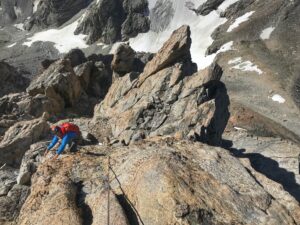 Exum's privately guided ascents of the Grand Teton are for friends or families wanting to climb the Grand together as a team, or individuals wanting to climb privately with a guide. You may also choose to climb privately if you want to climb with a specific guide.
The Grand Teton is one of the classic climbs in North America and it's on every climber's bucket list. Exum guides hundreds of climbers to the summit of the Grand Teton every summer – most of whom have never climbed prior to their first day of instruction with us. The Grand Teton climb will likely be the hardest thing you have ever done, but if you arrive fit and ready for the adventure, our guides will teach you the necessary climbing skills. Please see our Grand Teton training page for information to help you prepare for your climb.
Regardless of your experience, we require all climbers to participate in climbing classes. All climbers must successfully complete one or two days of instruction in order to attempt the climb. We recommend two days of instruction, however when requested, one day of private instruction is acceptable. The required low ratios in a single day of instruction will allow your guide to quickly review basic skills and then move on to more challenging climbing techniques. The day will cover all of the necessary skills, and allow sufficient practice so that you'll be ready to climb the Grand Teton with a private guide.
Typically when groups are climbing privately, the same guide will lead both the instruction and the Grand Teton climb. This allows the group to be very cohesive and allows the guide to get to know everyone and their individual abilities. In order to schedule your climb in this way, your training day/s and the 2-day climb must be completed on consecutive days.
Please call our office to discuss your climbing plans. Our office staff members have all climbed the Grand multiple times and will be able to answer your questions and describe the climb far better than we could write about it here.
Climbing the Grand Teton is an unforgettable and often life-changing experience!
Testimonial
"Wow! An incredibly run organization. The culture amongst this group is "kind of a thing". A well-paced, smooth trek to the top with no sacrifice of safety. Guides are not just mountain men but mountain scientists. Thanks for an epic trip to the top of the Grand!!" Blaine Calahan, 2019