Join us for a 3 Day Intermediate and Advanced Backcountry Ski Immersion Clinic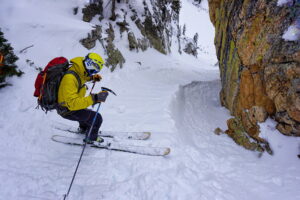 You will learn mountain navigation with GPS, tour planning, hazard analysis, and technical ski improvement. Leave this course with ample amounts of time in the field practicing the skills presented to you. Whether it be setting the perfect ski track, managing time, slope assessment, or creating an elegant ski tour that maximizes the terrain, after this course, you will have an in-depth understanding of how to manage complicated tours by pre-building tour plans and managing them in the field whether it be with GPS or Analog mapping tools.
Technical ski improvement is also a large focus of this unique and high-end course. On Day 1 you will spend time with a guide using video feedback to help better understand how to improve technically. Being good on your feet and having a better understanding of the technical nature of skiing will only raise your level of enjoyment and safety. You will work on techniques for skiing powder with better flow, steeps with confidence, and being efficient in variable snow. Video feedback for ski instruction is well known for being extremely effective.
This camp has no equal. Contact us for more details.